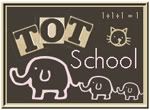 We had a really fun week this week.
Craft
R made a giraffe from his footprint. He finger painted the dots onto the pieces when I cut them out. This idea came from
Busy Bee Kids Crafts
.
This turned out unbelievably cute! R also snipped at the green paper on the bottom.
R did an easel painting with grey paint. To make grey paint we mixed a drop of black paint into the white paint.
R also did some drawing with all our grey pencils, markers and crayons.
R collaged a goldfish with gold circles. I used a circle punch to make the circles and R simply stick them on the fish along with a googly eye. Sorry, but the picture is not very clear.
R worked on a water colour picture of a goat from a purchased book. He really enjoyed this!
Letters and Language
I cut out a letter G and R added some glue and glitter. Another bad picture, sorry.
R sorted out the capital G's and the lowercase g's on the sorting mat from Confessions of a Homeschooler.
He also loves the Gg tracing. Anything that involves markers is much loved!
At his request, R also traced on the main letter page from Tot School Printables. He did really well at this activity.
R stamped with Gg stamps on a goat, from Tot School Printables.
Colours and Shapes
I sent R on a grey colour hut. This is what he found:
R sorted out pom poms, placing all the grey pom poms into a bowl.
I cut some shapes from alfoil for R to explore. He was not really interested in this activity.
Fine Motor and Sensory Skills
R explored some golf balls, rolling then and feeling the dimples in them.
R did a few of the Tot School Printables. He did the lacing card.
R played for quite a while, making sausages to cover the letter Gg and using the G cookie cutter.
R easily did the 3 piece puzzle.
R put some M&M's on the Gg magnet page from Confessions of a Homeschooler. The M&M's were a real motivator for this activity.
I made a simple sensory tub with green split peas, some measuring cups, spoons and a plastic muffin tray. R played with this for a long time.
Maths
More Tot School Printables. R did the goat ordering.
R sorted some cutlery that I set out for him. He also explored some coins, before posting them into a money box.
Science
I put some shaving cream and a blob of black paint into a zip-loc bag. R manipulated the bag until the shaving cream hat turned grey.
He then did finger painting with the grey shaving cream. We have done this many times and R never gets tired of it!!
Gross Motor Skills
We did the Gorilla Dance from an old CD from when I was working.
R got out his mini golf set and we hit the ball around the backyard.
I showed R how to gallop and we pretended to be galloping horses.
Cooking
We made our own garlic bread with home made garlic butter and a French Stick. It was yummy!
Next Program: Hh and Heart.
Thanks for reading!