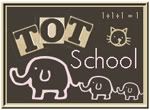 R is 25 months old
This was the first program the I compiled for R. I wanted to test it out before I created the whole alphabet and he really enjoyed it. So far, it has worked out well, especially after our new arrival, giving us some special 1:1 time together.
Craft
I squirted red paint onto a small paper plate and R spread it around the platewith his fingers. When he was finished, I stapled the leaf and stick on the top to make an apple. This idea came from
Making Learning Fun
.
I went through our collage box and gathered all the red items in there and R made a collage of red items.
I put out all our red crayons, markers, pencils and oil pastels for R to create a red drawing.
This is a bad photo, but I cut a cloud shape out of green card, and R stamped on it with circles (they were actually the paint stoppers for our paint pots) in red paint to make apples in the tree. Once dry, I stuck it onto a large piece of paper and drew on the trunk with brown crayon.
I also had apple printing planned, but we never got to it.

Fine Motor and Sensory
R loves pom poms and any related activities. R sorted all the red pom poms from our container of large pom poms. I printed and laminated the apples printable from
Engaging Toddler Activities
. R used tweezers to pick up small pom poms and put them onto the circles on the printout. He needed a bit of practice, but he got the hang of the tweezers.
I made some red ice blocks and put them in the water play trolley. This was a big hit and R was sad when the ice blocks melted. As it is still quite hot here, it was a great way to cool down.
We had red playdough this week. This was played with so much this week. I showed R how to roll balls to make apples. R still needs some practice with this. We pushed in some stems from real apples into the top. There was also some apple cookie cutters and an "A" cookie cutter. After laminating some stuff from
Tot School Printables
, we rolled 'snakes' and lay them on the Aa's on the"Main Letter Sheet". I encouraged R to trace the playdough with his finger to get the shape of the Aa.
We also used the lacing card and Aa apple puzzle.
I set out some red apples on the mat for R to explore. I used 5 apples, all different varieties. We talked about the different reds in all the apples and counted them. We tried to stack them, but were not very successful.
Maths
Shapes and Colours
A while ago, I made the Colour Sorting Station from
Home Grown Hearts
but R can sort the colours easily now, so I have been coming up with new ideas to use them. I hid all the red items around the house and gave R a red plate to go and find them all. As this was the first time we have done this, I 'hid' them quite obviously, and R got the hang of the game quickly. Next time I will be a bit more creative with my hiding places.
Cooking
We cooked apple muffins and ate lots of apples.
Music and Movement/Gross Motor
I blew up some red balloons and we played a variety of games with them. By the end of the day, all the balloons had been popped as R tried to sit on them!
I taped a piece of red card to the wall and had R throw the red beanbag and ball at the red card. I thought he would really enjoy this, but he wasn't fussed.
Science
Together we made some red jelly, discussing the concept of liquid to solid as the jelly set...we had to check on it several times! Once the jelly was set, I put it on the table for sensory exploration. R ate most of it and asked for more.
Language and Letters
Another craft we completed was A is for Apple Tree, seen at
Katie's Nesting Spot
. I cut an A out of a cereal box and R painted it with brown paint and a small paint brush. R then used a green Do-A-Dot marker to paint the top of the tree. I used a circle punch to cut out 5 red circles from card. R did not have the muscle strength to use the punch himself. He glued the circles on the apple tree.
R used alphabet stamps on the apple printout from
Tot School Printables
.
R did the Upper and lower case Aa Alphabet Matching from
Confessions Of A Homeschooler
. This is such a wonderful blog, full of great printables and ideas. If you haven't already, you should check it out!
Next Program: Easter