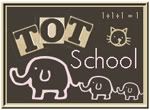 This program was done a few weeks ago. I had compiled it and then forgot about it. As Autumn came to a close, I thought we had better get this done, before winter starts.

Craft
R has really enjoyed chalk drawing on our easel and it reminded me to do an easel painting. R used to do many easel paintings when he was younger, and we haven't done any for ages. I gave him autumn colours - I put red and yellow in the same paint pot and gave it to him, as well as brown. We discussed colour mixing when he was using the red/yellow paint.
R has been right into drawing lately, and I put out autumn colours when he requested drawing.
He also made an autumn tree with torn paper. He ripped the paper, and them stuck the torn pieces onto paper with a tree trunk drawn on it. He spent ages at this crafty activity.
We made a handprint tree, inspired by a couple of different activities seen on
Totally Tots
. I painted R's hand and arm and he pressed it to the paper. He then glued on leaves from our garden. He really liked doing this activity.
R has been struggling with size sorting, so we made a shape tree to talk about big, medium and small. I cut out three triangles of varying sizes. R drew on one, used Do-A-Dot markers on one and finger painted the biggest one. I then got him to layer them on top of each other, with the biggest one on the bottom, sticking each layer down as we went. This area still needs some work.
Shapes and Colours

Many years ago, I made a Shape Leaf Match game from
Preschool Printables
. He matched the shapes on the leaves quite well, but quickly wanted to pack away.
I made up a little leaf colour book in Microsoft Publisher and R painted on it with Do-A-Dot Markers and Ta-Doodles Markers. I read the words on the page, and R had to find the correct colour to stamp with. I stapled it into a little book and R loved it. We read it every day for over a week.
It was quite easy to make this little book on the computer. I made a text box and typed in the words, then copied the leaf picture into it. I then "copy and pasted" it several times to make each page, changing the colour word on it. I made 2 pages per sheet of A4 paper. Then simply cut out each page and begin decorating it.
We did a leaf size and colour sorting activity from
Childcareland
. R sorted them into colour piles. This was quite difficult because it is quite hard to tell the difference between the red and the orange leaves. We also discussed big, medium and small again.
Maths
I printed off the Roll A Fall Tree from
Play To Learn Printables
. I laminated the tree and then gave R some punchies from a leaf punch. I let him put the leaves on the trees at first. Then I gave him a dice and let him roll it, aiming to put the number of leaves on the tree that showed in the dice, but he did not enjoy this, so we went back to putting the leaves on the tree.
The success of the Leaf Colour Book inspired me to prepare a little leaf counting book for R. I have wanted to do more counting with him, and this was a fun way to introduce the numbers 1-3 to him. This was simpler to make. I cut a sheet of A4 paper into quarters. I wrote on each page. On the 'one leaf' page a drew one dot, two dots on the 'two leaves' and three dots on the 'three leaves page'. After making 6 leaf punchies, R stuck the leaves to the dots. I instructed R to put one leaf on each dot. He did this, and I counted each leaf with him. He then drew on the cover page and I stapled to together and we have been reading it ever since.
I made a simple leaf sorting game from
Prekinders
. I coloured in the baskets and then laminated the sheet. Using leaf punchies, R sorted them and placed them on the correctly coloured basket.
Science
On a beautiful Autumn day here, we collected some leaves outside and smelt, touched and explored them with a magnifying glass. We compared the leaves that had fallen to the ground with the green leaves that were still on the trees. R also raked up some leaves that were on our lawn. I didn't get a picture of this, because he packed his rake away whilst I was inside getting the camera.
Cooking
We baked
pumpkin muffins
with no sugar in them. They were really easy, tasted wonderful and freeze well.
Fine Motor and Sensory
I put some warm water in the water play trolley, but I think it was a little too cold for water play because (for the first time ever) R did not want to play with it.
We had orange and brown playdough this week, with leaf cookie cutters. We also pressed leaves from the garden into the play dough to make leaf prints.
I cut out a leaf shape from paper and R snipped at it. He can now open and close the scissors on his own as well as hold the paper. It was the first time he held the paper. The last few times we have practiced cutting, I have had to hold the paper for him whilst he operates the scissors!
I had planned on doing a scooping/pouring/funneling activity with orange lentils, but when I went to set it up, I discovered that I had no lentils, so I will post about this when I get some.
Language and Letters
R made an L is for Leaf, inspired by
2 Teaching Mommies
. R asked to do drawing as I was cutting out the leaves and "L", so he decorated them with pencil drawings.
Music and Movement
R and I pretended to be leaves floating to the ground. I didn't think R would be interested in this, but he was, and it lead to us running around our lawn 'zooming' like aeroplanes. Such fun! :)
Next Program: Cc and Circle.